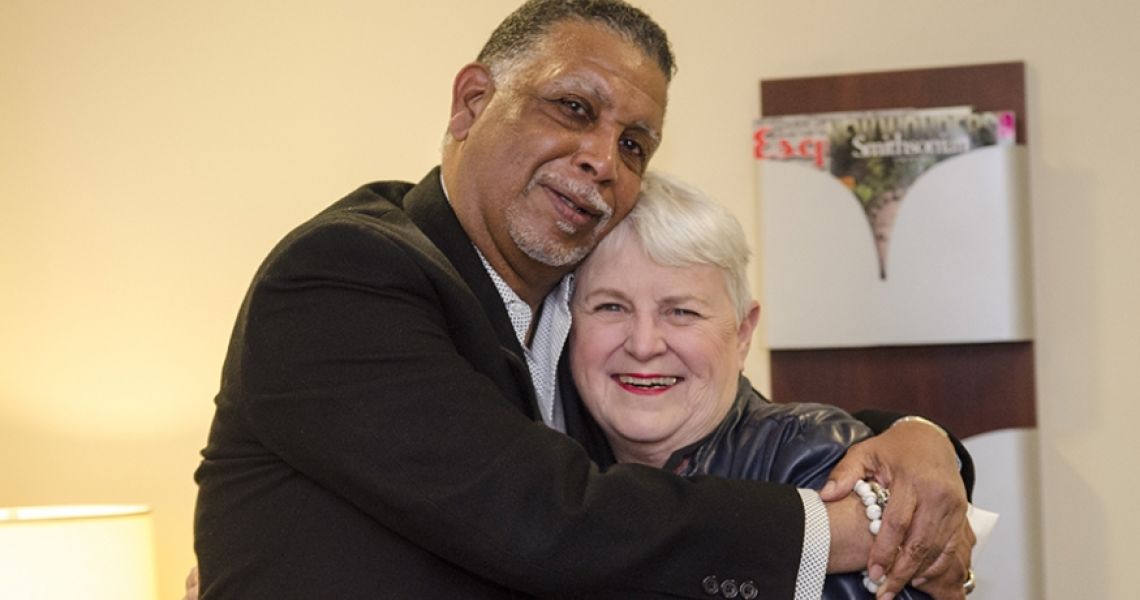 J. Keith Melancon, M.D., clapped Maurice Lucas, a retired Metro bus driver, on the back as he led him and his wife, Violet, through the door of the GW Transplant Institute at GW Hospital. "I've got somebody you need to meet," said the chief of the Division of Transplant Surgery, director of the institute, and professor of surgery at the GW School of Medicine and Health Sciences (SMHS).
Waiting inside for Lucas was Jane Bishop, his non-directed – or unrelated – kidney donor, eager to meet him.
"I just want to hold you the rest of the day," Lucas said, enveloping Bishop in a hug. "[You're] my new best friend. I've been wanting to meet you forever."
Lucas and Bishop's story started a few years ago. Lucas was suffering from high blood pressure and kidney problems and was eventually diagnosed with kidney disease. Oddly, he kept running into Melancon, after having met him at a seminar at GW— and it was Melancon who was able to get Lucas off the dialysis he'd started and match him with a donor.
"This is about life," Melancon said. "When it's a non-directed donor, you're saving the life of a stranger."
As he explained, any healthy person can be a donor, an important fact given that Washington, D.C. has one of the highest rates of end-stage renal disease – 44 times the national average. Kidney disease also disproportionately affects those who are Hispanic or black, like Lucas.
What's key, Melancon added, is encouraging people to donate. Patients who receive kidneys from live donors tend to have higher survival rates, and donations, as a whole, are significantly more cost-effective than dialysis, which Melancon has estimated can run into six figures.
With the advancements in medications, it's also not necessary for a donor and recipient to be a perfect match, and Melancon and the team at the institute, including Thomas Jarrett, M.D., professor and chair of the Department of Urology at SMHS, and Muralidharan Jagadeesan, M.D., associate professor of medicine at SMHS, can perform kidney swaps on higher-risk patients.
Becoming a donor, at least in Bishop's case, can come with its own life-saving measure. During the screening process, Bishop learned that she had a "teeny blip" on her uterus: uterine cancer. Had she not decided to donate – a plan that emerged after she had survived breast cancer – her uterine cancer could have gone undetected. She had a hysterectomy and continued with the donation process.
"It [was the] right decision," she said, adding that deciding to donate is a process both personal and thoughtful.
After their initial meeting, Bishop and Lucas attended the institute's Living Donor Appreciation Celebration, which honored directed and non-directed donors, and they plan to speak about kidney disease and donation at each other's churches.
"I [also] whispered to his wife, 'I think we have some dinners in our future,'" Bishop said.
Lucas concurred: "She's in the northeast, so she's not that far. I'm in southwest, so she's in the District. It's so easy to get to her. I've got plans to always stay in touch."