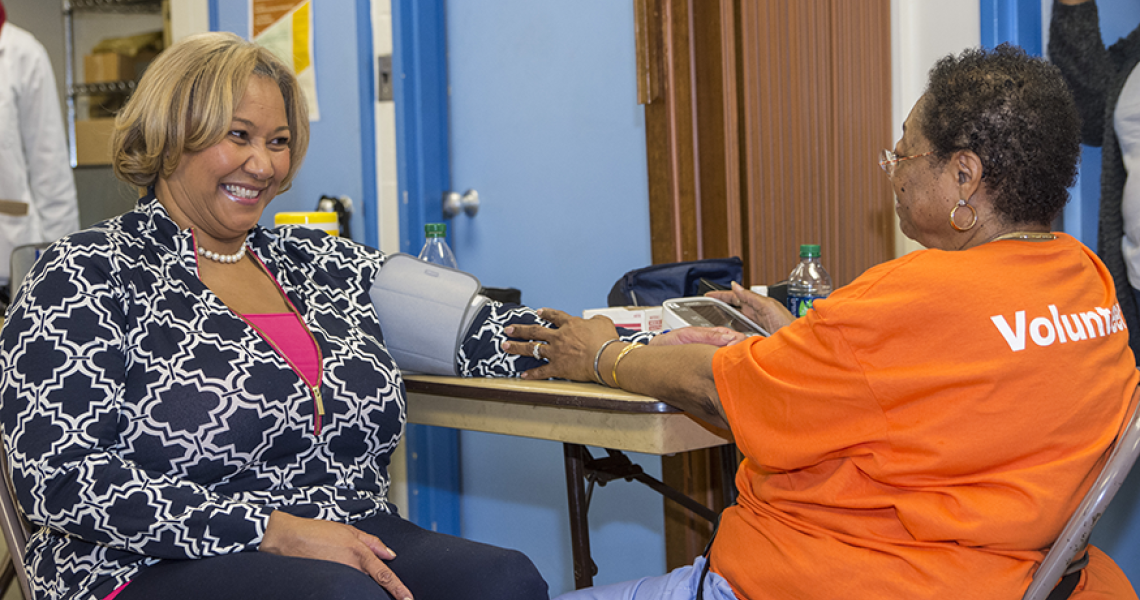 Ron Paul, chair and chief executive officer of Eagle Bancorp and Eagle Bank and two-time kidney donation recipient, and his wife, Joy's, mission is clear: "To eradicate, as best as we can, kidney disease."
Paul's message punctuated the outreach efforts of the GW Ron and Joy Paul Kidney Center and the National Kidney Foundation at a kidney health screening held March 12 at the Pennsylvania Avenue Baptist Church.
Chronic kidney disease, according to the National Kidney Foundation, has staggering statistics. Ward 7 is ground zero for kidney disease in the nation, and the incidence of end-stage renal disease is 44 times the national average. The key to fighting the disease is ensuring that those who are at greatest risk — people who have diabetes or hypertension, a family history of kidney disease, and are 60 years of age or older — get screened annually. Although kidney disease typically has no symptoms in its early stages, it can be reversible if it's caught early. If it's not, a patient's only recourse is either dialysis or a donation.
"If each of you in this room reach out to two people, and get them to take a simple blood test, a urine test, a blood pressure test, you would be amazed at how much better they'll feel and how much better you'll feel that you potentially helped one of the members of your family," Paul said. For him, it's all about awareness and education. More than 30 years ago, Paul learned he had an illness called glomerulosclerosis, which led to kidney failure. "I didn't have any pre-existing conditions, no diabetes, no high blood pressure, no issues at all other than I found out I had kidney failure," he said.
In extending educational outreach, Yvette Alexander, D.C. councilmember of Ward 7 and chair of the Committee on Health and Human Services, presented a resolution, unanimously approved by the D.C. Council, designating March 2016 as National Kidney Awareness Month. The resolution "encourages all citizens to recognize the importance of kidney health and the prevention, early detection, and treatment of kidney disease."
James N. "Chief" Short Jr., a former deputy fire chief with the District of Columbia and a current resident of Ward 7, believes kidney health is crucial.
"[This issue] is very close to me," he said at the screening. "My father died; he was on dialysis. One of my very best friends in life was on dialysis for over 10 years. I had a sister who passed, eventually with kidney disease. Another cousin in North Carolina; she went blind before she passed, and that was really devastating to the family."
The screening — which also featured speakers Jeffrey S. Akman, M.D. '81, RESD '85, vice president of health affairs, Walter A. Bloedorn Professor of Administrative Medicine, and dean of the GW School of Medicine and Health Sciences (SMHS); Keith Melancon, M.D., chief of the Division of Transplant Surgery, director of the Transplant Institute at GW Hospital, and professor of surgery at SMHS; and Kendrick E. Curry, Ph.D., M.Div., pastor of the Pennsylvania Baptist Church — provided all of the necessary tests (blood, urine, and blood pressure) as well as one-on-one consultations with a health care professional.
"I have a history of kidney problems, diabetes," said patient Bryan Isabell, as he waited to hear the results of his tests. "It never hurts to check it out, make sure I'm alright."